Triple-helicopters invented by G. & J. Tarrow Siblings Inc. in 2010. The equivalent of three helicopters stuck together. They are sixty one times faster and seventeen times more powerful than regular helicopters, though more complicated to fly. The test pilot of the first version was James Hogsbottom, who teaches Paper Airplane class at Swedhump Elementary. There have been no reported triplocopter crashes to date.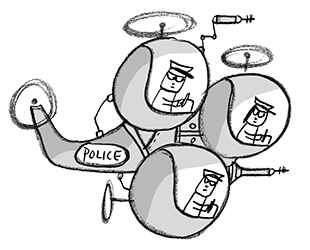 To read more about the actual invention of the triplocopter, see the detailed Almanac entry under G & J Tarrow Siblings Inc.
Triplocopter Landing Techniques
We would like to share these with you here but unfortunately landing a triplocopter is so complicated you'd never understand it, unless of course you have been to the TFTA (Triplocopter Flight Training Academy). But if you've been to TFTA, you won't need to read this, will you?
Triplocopter Oil Maintenance Procedure
Excess oil must be drained by opening valve 2,387g on a Wednesday or Friday. Once drained, new oil must be added using input valve 276b, but refilling must only take place on a Tuesday or Thursday. Adding oil on any other days is extremely irresponsible and can lead to mid-flight oil leakage or even worse, engine failure.