Teaches: Paper Airplanes
Major Accomplishments: Doctorate in Aeronautical Engineering by age fourteen.
Loves: Flying, cheese, flying cheese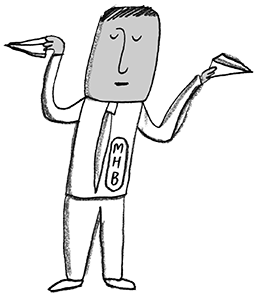 Apart from his teaching job at Swedhump Elementary, Mr. Hogsbottom also works part-time as an astronaut, and has been to the moon twice.
Former test pilot at Triplocopter Flight Training Academy.
Always kind, friendly and calm.
James Hogsbottom kind of falls into the TH (Total Hero) classification. Nice, cool, calm, collected, friendly, charming, modest, an astronaut, a test-pilot, and a schoolteacher. What could be cooler? It seems as if his only weak spot is he's left-handed, so he's allergic to Grobsnots.
When he was young
From an early age little James started building model aircraft. Initially radio-controlled gliders, then radio-controlled single engine craft, then radio-controlled twin engine craft. Aerodynamics and engine design were always his strong point.
When he was six years-old he started taking aeronautical engineering evening classes. By the time he was nine he had a Masters degree. After that he enrolled for evening classes at the Emmarentia Academy of Aeronautical Engineering, studying under the supervision of the Chief Engineer, Professor Conley McConaUgghHH-h.
By the time he was fourteen, he got his PhD. His thesis paper, "Upper Swash Plate Vortex Encapsulation and Derivative Control-Rod Transmission Stabilization" achieved the school's highest ever grade, and Professor Conley McConaUgghHH-h quotes it to this day.
When he was fifteen, he successfully built and test-piloted his first HAD-VR (High Altitude Deep-Velocity Rocket).
By the time he was sixteen got a much sought-after and highly prestigious job as a test pilot at the Triplocopter Flight Training Academy. We can't tell you about any of the aircraft he tested (as they were and still are classified as Top Secret), but we can tell you about the Cheese Incident.
The Cheese Incident
Up until that time, James Hogsbottom really did not like cheese. That is because he had grown up right next to a cheese factory. The smell of it really annoyed him, especially when he lay in bed at night.
But that all changed, and very dramatically.
One afternoon whilst test-piloting a new aircraft (we can show you a picture of it but again we cannot tell you anything about it), he decided to fly several miles from the test base, and over his house to wave hello to his parents.
But as he flew overhead the craft suddenly started losing power. And the next thing, to the horror of his parents, it fell out of the sky.
It crashed straight through the store-room roof of the cheese factory, but luckily, and miraculously, its fall was cushioned by a giant piece of cheese. It fell so deep into the piece of cheese that it took the rescue services several hours to dig him out.
The incident changed James forever.
Realizing that cheese had saved his life, he is now a BIG fan!