TOTAL MAYHEM!
Hilarious, action-filled, illustrated mystery stories, jam-packed with crazy stuff that make kids laugh-out-loud. The Total Mayhem adventures are written for 7-10 year-olds but appeal to the whole family. They explore universal themes of friendship, courage and taking the initiative.



Total Mayhem is published in the US by Scholastic.
For foreign rights queries, get in touch here.
Book 1: August 2021 pre-order
Book 2: August 2021 pre-order
Book 3: November 2021 pre-order
Book 4: January 2022
Book 5: April 2022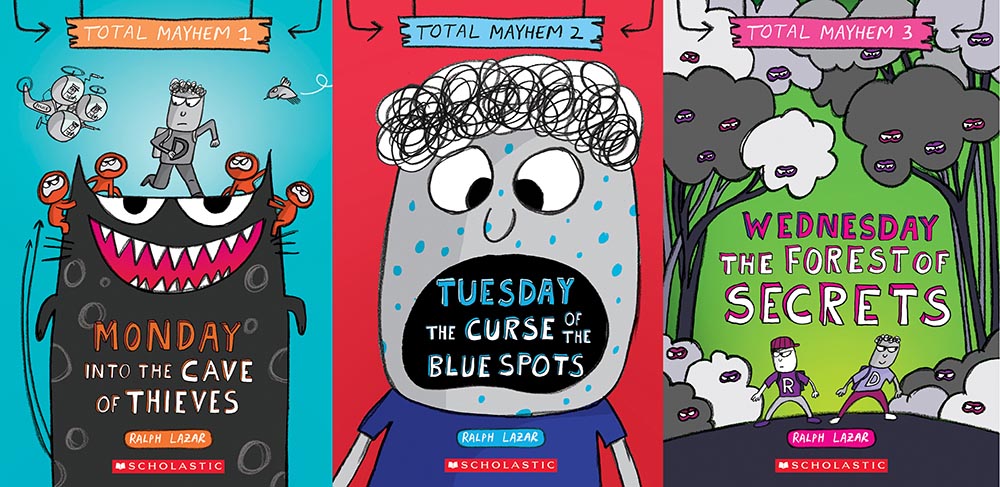 A new unputdownable series from Ralph Lazar and Lisa Swerling, starring Dash, an ingenious problem-solver with fantastic friends and a bottomless backpack of brilliant gadgets.

"We are on the third Dash Candoo book, it has us all in fits of laughter. My son is keen to have a designated book shelf just for his Dash Candoo book collection!"
– M.D. (UK)
"I couldn't stop reading it because it was as if I was in the book, not reading it, but in it."
– A.W. (9 years old, US)


Thanks everyone for the AMAZING reviews!
Check out Dash's aMAZE-ing mazes!
If you join our mailinglist, we'll ping you when new content is added to the site. You need to be 13 or older though!
Check out the Almanac. It documents everything that appears in the books, and gives additional background information on: Vehicles, Equipment, Communications, Weapons, Scallywags, Activities, Food, Animals, Trees, Plants, Classmates, Teachers, Schools