Adopted pet eel of Ms. Greenacre.
Found abandoned in a swamp in the middle of Moremi Forest.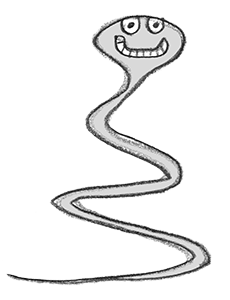 Derek is very tame and passive, unless ordered by Ms. Greenacre to attack. Then he is a force to be reckoned with. His two main attack moves are:
[1] The Airborne Flailing Face of Death: This involves being thrown by Ms. Greenacre, usually from high up on her zip-line. As he approaches his prey, he grins the most evil, terrifying and completely intimidating grin.
[2] The Double-Sheep-Shank-Rope-Tie: This involves lightning-speed coiling around the victim's lower legs, rendering them totally immobile. Please note, it is not actually painful or harmful to the victim in any way. It just traps them till a police triplocopter comes for them.