Invented by Greta Gretchen-Hoffer, this is a throwable hook that will catch on almost anything if thrown correctly. Super-light and super-strong. Made of carbon-fibre mixed with Krypto-web fibre. Dash, Rob & Greta always have them in their backpacks.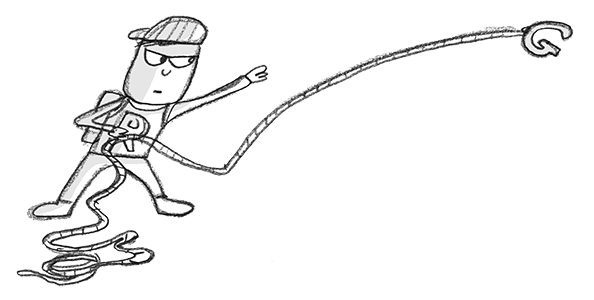 G-hooks are designated Legitimate Stealth Equipment (LSE) by the International Stealth Equipment Designation Committee (ISEDC) and G-hook throwing tutorials are offered by the ILCSGM (Institute of Leopard-Crawling and other Stealth Ground Manoeuvres), established by Leonora & Wilford Schleswig-Wompelstein.
The World G-hook Throwing Championships were first held in 2017.
List of previous winners:
Year: Name (distance in yards), type of throw
2017: Wim Lagaay (33.1), right-handed ballistic-trajectory
2018: Josephine Ragni (35.7), left-handed side-swipe
2019: Rodnefferson Hoodwink (36.2), right-handed curve-throw
2020: James Mc.Baigrie (37.4), right-handed elbow-pivot + skollie wrist-flick