Teaches English
She's a bit weird, and has a cat called Dog.
Lives in a weird tower on the edge of the Moremi Forest adjacent to Swedhump Elementary.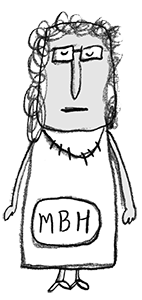 Mrs. Belch-Hick is very snobby about literature. She believes children books should not have pictures in them. The weird thing is, even though she features in the Dash Candoo books, she is really rude about them. In fact she goes out of her way to recommend people don't read them.
After the FIRST Dash Candoo book came out, she had this to say:
"Have you read read book 1 yet? It was really awful."
After the SECOND Dash Candoo book came out, she had this to say:
"It was the worst book I have ever read. It was BEYOND awful. And I'm an English teacher so I know this things."
After the THIRD Dash Candoo book came out, she had this to say:
"Why are books like this even allowed?"
After the FOURTH Dash Candoo book came out, she had this to say:
"The books are bad enough, but who are the kids that actually read them. What kind of kids are they? What's wrong with them?"
After the FIFTH Dash Candoo book came out, she had this to say:
"All five of those books should be banned. They are rubbish. TOTAL RUBBISH!"